Did you know tax agents go through 
YEARS
of tax law training and then must have several years of experience under their belt before registering with the Tax Practitioners Board as a Tax Agent?
Don't get caught up in a scam! Look for the tax agents official registered symbol. We each have our own!
The Tax Practitioners Board issues registered tax agents each with their own individual symbol. We use the symbol in all our client correspondence and our advertising, so you can rest assured the tax agent you are dealing with is genuine.
My registered agent symbol looks like this: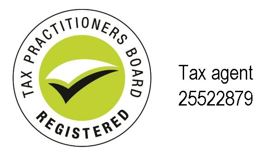 When you see this symbol, you can be rest assured that you are dealing with a licensed professional.